in traditional Thames skiffs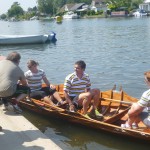 We're always keen to welcome new members to the Club – whether or not you have any experience on the water.
It's up to you whether you want to race, or just row recreationally, paddle here in Walton or participate in events further afield, such as the Great River Race, a row to Thames Ditton for lunch, or an expedition down the navigable, non-tidal Thames from Lechlade to Teddington.  Train up to once a week or more frequently, you'll find other members with similar interests.  A great way of getting going in 2017 is through our Learn to Row Courses for adults (18+).
Learn to Row Courses 2018: 
Sundays 20th May, 27th May, 3rd June, 10th June, 17th June, 24th June     09:30 – 11:00 or 12:30 – 14:00
The course comprises any 3 sessions which will give you an all-round introduction to skiffing. After that, if you decide you'd like to join the club (and we hope you will!), we will continue to coach you.  
If you can't make all of the sessions in the dates above, please contact us and we can try to arrange other times.
Cost:  Each course costs £25, payable at the first session.  If you decide to join, this amount will be deducted from your first year's membership.
Book your place or contact us for more information:
FAQ'S:
Do I need to be fit to take part? Not particularly, but you do need to be able to step into and out of the boat below riverbank level. And you must be able to swim 50m in clothing (we won't ask you to do this during the course).
What should I wear? Any kind of sports kit and trainers or soft-soled shoes. You really can't skiff in jeans. And it's best to avoid tops with pouch pockets – you tend to get you hands stuck in them. And since someone once asked, although many of the photos on this website show people wearing shorts, you do not have to wear shorts.
What age are your members? The course is for adults only (18 or over) but there's no upper age limit provided you are in good health. We have several members in their 70s who skiff regularly.
Will sessions be postponed if the weather is bad? Not if it's just raining a bit, but they could be if river conditions make the river too fast-running for beginners to go out safely. If the Shepperton to Sunbury stretch here http://riverconditions.environment-agency.gov.uk/ is showing as being on Red, we will definitely not go out. If it's Yellow, we will let you know.
Where does the course take place? At our Clubhouse, which is (by road) left off the bottom of Dudley Road, Walton on Thames, Surrey, KT12 2JY, or via the river bank, about 200m downstream of The Anglers' pub. Note, this is NOT Walton Rowing Club which is at the end of Walton Lane.
I can't make one of the sessions – is it still worth me enrolling on the course? Definitely and we'll make try to reschedule!
How do I sign up? Just contact us using the form above.
Will the bar be open after the session? Oh yes!
I have a question you haven't anticipated. How can I get an answer? Just contact using the form above or email to learn2row@tvsc.co.uk
In accordance with the Data Protection Act 1984, you are advised that the information you provide on this form will be computerised and used for administrative purposes.