Our Skiffs
We provide all of the boats and blades (oars) for our members to use. Our fleet of boats includes nine double skiffs and three singles. The oldest boat was built in the 1920s, and the two newest doubles were completed in 2020 at a cost of £35,000 each. They are hand-crafted, timber racing boats built to a traditional design.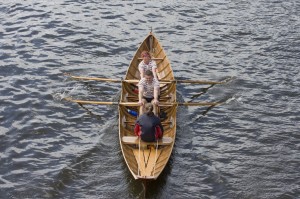 Singles are for use by one person and doubles carry three crew – two pulling and one as a cox to steer.
Convention means that 'rowing' refers to a crew member using one oar with both hands. One person using two oars – one in each hand – is described as 'sculling', which is the more accurate way to describe how we propel skiffs.
The boats are "clinker" built, where each plank overlaps the adjacent one around a framework of strengthening ribs. The boats are wider and more stable than their rowing counterparts. Seats are fixed and blades are held in place by wooden thole pins at the side of the boat rather than in rowlocks or outriggers.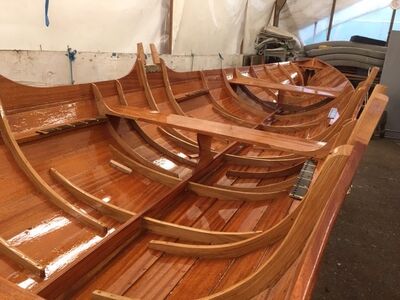 The design and construction of skiffs can be traced back to Anglo-Saxon times. Parts of the boat betray this history: the'thole' pins have linguistic roots in Middle English. Before that the word can be traced to Germanic languages and similar words would have been used by Angles, Saxons and Vikings alike. The asymmetric leather collars on the oars are tried and tested medieval technology.
When we skiff
Experienced skiffers are free to skiff at any time, subject to safety guidelines based on river and weather conditions.
Members often arrange directly with each other to skiff at times to suit them, and single skiffs may likewise be used by individuals. Many people skiff all year round, including on winter evenings. For new members, informal tuition continues after you have completed the three Learn to Row sessions. Even experienced skiffers benefit from advice offered by those who have fine-tuned the art of coaching, so there is long-term support too.
We have a good turn-out for club sessions, which are on Sunday mornings at 11:00 am and on Tuesday and Thursday evenings. On Sundays those attending are matched into crews. It is not unusual for there to be up to 30 people on Sundays, and these sessions are a good way to meet other members, make friends and form skiffing partnerships. Skiffing on Tuesday and Thursday evenings is a mix of pre-arranged crews and, depending on numbers, matched crews as on Sundays.
Skiff Racing
In the summer many of our club members take part in regattas along the Thames. These are hosted by town regatta committees or local skiff clubs between between Henley and Teddington. The competitions are side by side sprint races over distances between 500 and 800 meters. A race can take between 2 and 4 minutes.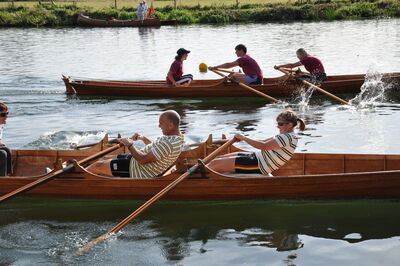 Regattas are always good humoured events, are great fun to attend – and they can be fiercely competitive too!
In spring and autumn, there are long distance 'marathon' races. These are processional time trials over courses of between 4½ km to 8 km. Dependent on the course and conditions on the day, marathons can take between 25 and 45 minutes to complete.
Some regattas, including one of the ones we host, have competition racing in the morning and 'rag' regattas in the afternoon, with plenty of fun and family friendly activities.
There is an entry fee to take part in races (approx. £6-10 per person per race category) which is charged by the regatta or marathon committee to cover the costs of running the event, including trophies etc